ELECTRONIC MATERIALS MANAGEMENT
Electronic materials are the materials used in the electronics, and microelectronics manufacturing industry, referring to the gases, chemicals and other materials, that are used in the manufacturing process of semiconductors. Storage, Delivery, and Recovery of the materials is all part of the management process.
Chemical Management and Distribution
Wet chemical management starts with the chemical delivery of acids and solvents in bulk drums, these are typically in containers with volumes of 25 litres, 40 litres, and 200 litres. The chemical drums are contained within a Chemical Distribution Unit (CDU) with chemical supplied to the point of use by a pump or constant pressurised system.
Larger chemical quantities can be supplied using Industrial Bulk Containers (IBC), which are stored externally to the CDU. CDUs typically have 2 drums to facilitate auto-changeover ensuring seamless supply of chemical regardless of size.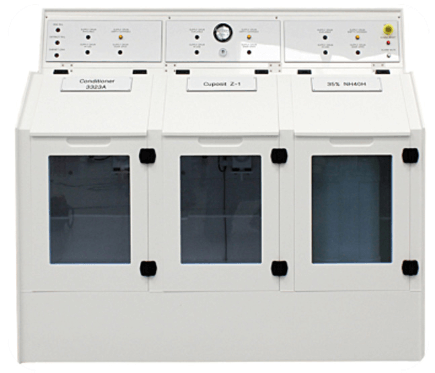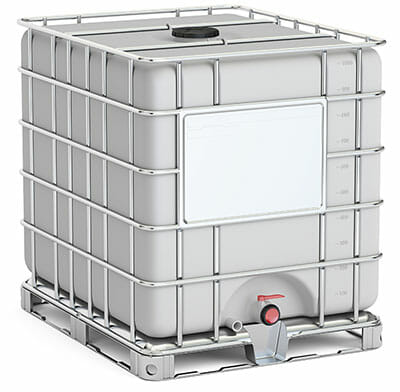 Thermco's CDUs are intelligent units incorporating an HMI for setting parameters such as alarm levels and maintenance schedules and these can be interfaced directly to the fab host or to Thermco's central control system known as a 'Data Concentrator'. Spent chemical recovery is achieved using a Waste Collection Unit (WCU) which is similar to a CDU, but works in reverse and is usually connected to a sump beneath a wet bench.
Typical chemicals used in the Semiconductor industry comprise of aqueous solutions (acids and bases) and solvents, for example:
H2SO4 (sulphuric acid)
HF (hydrofluoric acid)
HCl (hydrochloric acid)
HNO3 (nitric acid)
H3PO4 (phosphoric acid)
H2O2 (hydrogen peroxide)
NH4OH (ammonium hydroxide)
KOH (potassium hydroxide)
EKC (solvent)
IPA (solvent)
NMP (solvent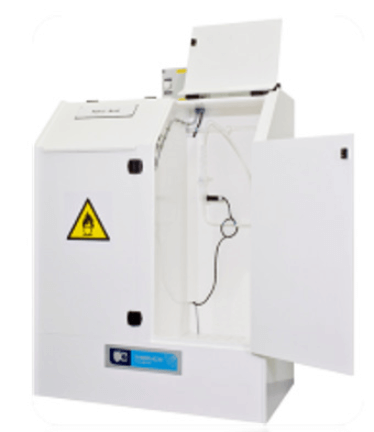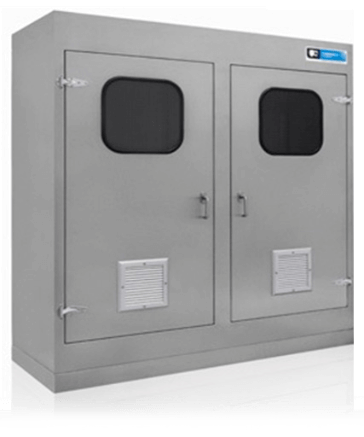 Solvent distribution equipment is required to suppress static due the combustible properties of solvents and the inherent fire risk. The favoured material for solvent enclosure construction is stainless steel due to its electrical conductivity, preventing the accumulation of static electrical charges.
General construction of enclosures used for handing aqueous chemicals is typically polypropylene (PP). Polyvinyl carbonate (PVC) is the specified material for equipment requiring fire-retardant properties, such as a FM4910 rating. FM4910 is the fire-retardant property standard established by Factory Mutual System for materials used in clean room applications and is the accepted industry standard specification.
Chemical Distribution Unit - specification and options
Standard Features
Pump / Filter flush (DI for aqueous) followed by Nitrogen (N2 only for solvents).
Enclosure floor type: static or roller recommended for large drums >25 litre.
Chemical supply pump type E15 (50 litres per min) per chemical (ATEX for Solvent).
Manual isolation of pumps.
Pressure regulation of incoming CDA.
Drum empty sensor on reservoir output.
New drum acknowledge button.
Spill detection and secondary containment.
Local demand signal interface.
Exhaust detection.
Door interlocks.
Drum connection kit including standard drumhead and umbilical tubing.
High purity chemical plumbing (0.5" or 0.75").
DI water hand spray gun for washing interior.
8" Mitsubishi GOT HMI with multi-function control and unit status display.
Control PLC and communications PLC with Ethernet connection.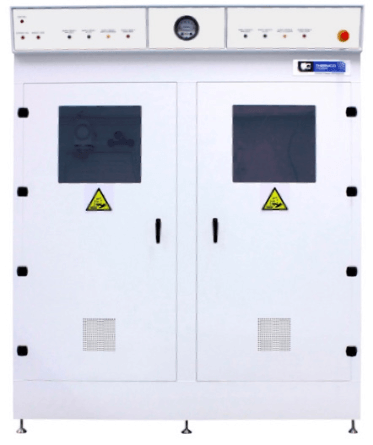 Chemical class (Aqueous / Solvent)
Filter housing (filter element to be supplied by customer)
Supply tank quantity (1 or 2)
Supply tank capacity (25 / 20 / 200 litre)
Supply tank chemical 'polishing'
Auto-switchover
Day tank capacity
Day tank polish
Hand gun for DI wash down
Drain type (gravity / pumped / aspirated).
Drum loading method.
Drum connection type.
Delivery method (Constant pressure or on-demand).
Glove ports.
Sample port.
Off-line redundant pump.
Pressure indicator of chemical flow to VMB.
Thermco Systems have Electronic Materials Management designed with your emerging technologies in mind
Our specialty gas cabinets are available in single, double, and triple cylinder configurations.
We offer a full range of cabinets for inert, toxic, corrosive and flammable gases.
You are able to choose from manual, automatic and semi-automatic functionality for your specific application.