AUTOMATED BELL JAR AND QUARTZ PARTS CLEANER
The Thermco Bell Jar Cleaner is specially designed to accommodate large bell jars used on CSD Epitaxy products with etch basin to clean auxiliary chamber parts making efficient use of etch chemicals. It is simple to use with its ergonomic design and user-friendly touch screen interface.
The quartz components of the EpiPro are loaded and unloaded via double doors at the front of the cleaning chamber. The bell jar is manually placed inside the chamber using a lifting trolley. The smaller profile quartz components are loaded into the weir bath beneath the Bell Jar shelf.
The Bell Jar Cleaner is easily maintained from the front and side, with options available for door placement at the rear if preferred.
PRODUCT FEATURES AND OPTIONS
Sequential cleaning
User definable process
recipes
Small footprint height <2500mm
Touch screen colour HMI
High purity materials
construction
DI water hand spray gun
DI water rinse
Side and rotary nozzle
Nitrogen drying
Base reservoir holding tank
Chemical re-use
Safety interlocks to protect
operator
Manual fill with Chem-ready option
Compatible with customer
Bell Jar handling cart
Cleaning solutions for Quartz and Ceramic parts to ensure maximum uptime of the EPIPRO 3000/5000
The system can accommodate 2 sizes of Bell Jar with the following dimensions :-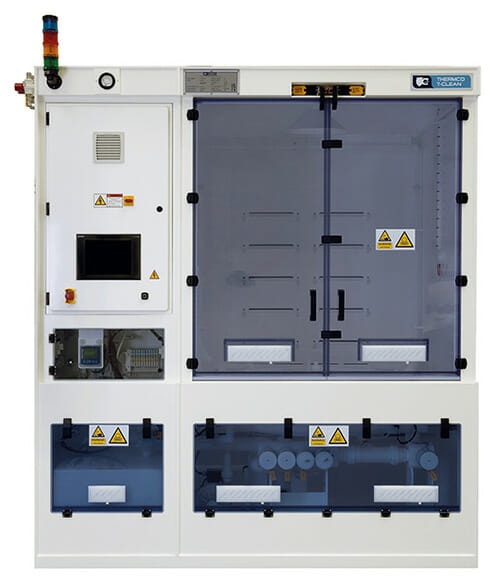 Optional CDU
(from 25 to 200 litres)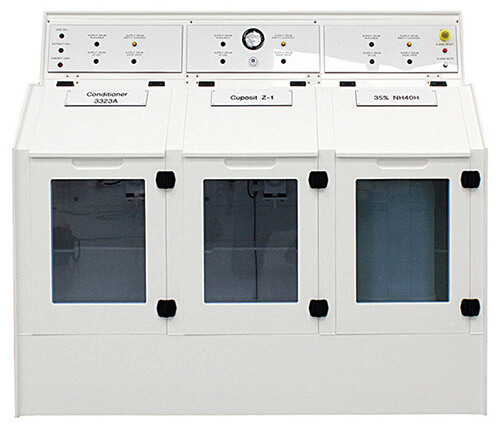 Chemicals can be manually filled and blended by the user, alternatively an optional Chemical Dispense Unit (CDU) may be selected. The optional CDU provides accurate and safe chemical delivery to the system. If this option is selected, the Bell Jar Cleaner will be 'chem-ready'.
The system design is based on standard process chemical blending, typically:
Mixture of DI Water 35% and HNO3 (Nitric acid) 65%
Mixture of DI Water 50% and HF (Hydrofluoric acid) 50%

Customer specific chemistry requirements to be confirmed prior to ordering the system.