PCMUX FURNACE CONTROL SYSTEM WITH SPC AND REACTIVE AI
Thermco's proprietary PC-MUX is a GUI interface furnace control system running on MS Windows OS, with data collection of all main furnace parameters, which are stored in a relational database for later graphic display and analysis.
The system includes an advanced recipe editor function and Statistical Process Control (SPC) utilising reactive AI to reduce scrap events and optimise maintenance cycles by automatically analysing process runs against baseline recipes or a user defined control limits.
Process engineers can fine tune the process performance and repeatability by use of SPC data analysis tools. Maintenance engineers can pinpoint recurrent problem events by Pareto analysis and can also predict failures before they happen by charting machine variable 'Trends'.
Use statistical control to monitor and control all critical furnace parameters.
Finger print the best historical system performance and use this to monitor product runs ensuring a consistent high quality process.
Create user defined Trend charts, Overlay charts and relational databases.
Apply statistical analysis to determine machine process control limits for critical parameters.
SPC control predicts when potential problems may occur to allowing corrective action to be taken.
Prevents scrap process runs by highlighting process shifts.
Set automatic alarms and process hold limits integrated to the operations software modules to preventing committing a new product run without corrective action.
Pareto chart most common process alarm parameters.
Determine most critical process parameters using the relational database.
Thermco Systems have thermal process tools designed with your emerging technologies in mind
Operations GUI with real-time graphic representation of gas system and real time status colour coding.
Manual entry of setpoints on touchscreen available for maintenance level Engineers.
Start, Stop/Hold and Continue buttons on screen.
Extended data available (SBC software update).
Password login control of functions and auto logdown.
Extended Recipe Editor (XRE) with advanced features. Forward and backward compatibility with legacy TMX recipe types.
Data collection of all system parameters.
Graphical plot of data from historical runs and chart recorder option for real time plotting.
Export to CSV files.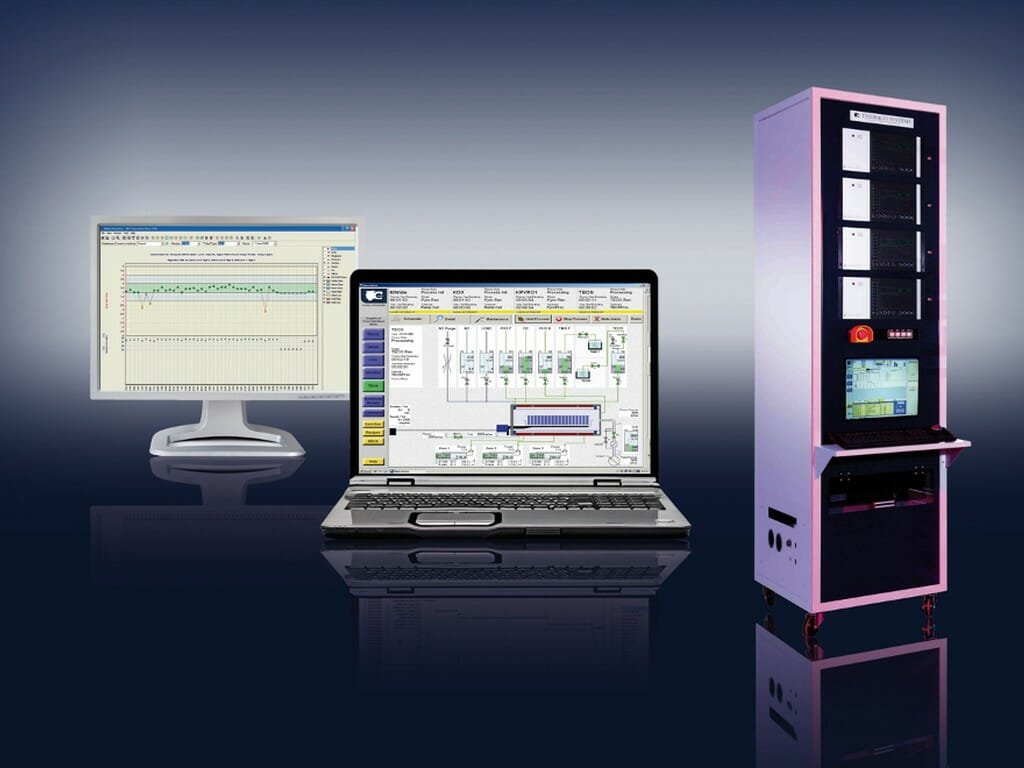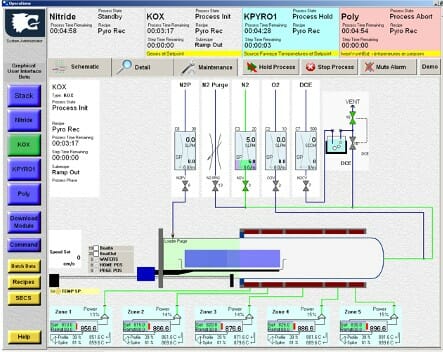 Trend chart allows the user to define a logic statements to trigger SPC analysis to specific data in the process run.
User set control limits (warning and hold next batch) can be applied to the trend chart over multiple runs.
A full suite of SPC analysis tools are availble
Overlay chart allows the user to characterise the response curves over a number of known good process runs. The PCMUX automatically sets control limits around the characterised baseline response curves.
More than one control trend chart and overlay chart can be applied to one process run.
Pareto chart of alarms and events to show distribution of type.
Small form factor industrial PC with:
Fanless design to prevent dust ingress
Intel Core i5 processor with 4Gb RAM or equivalent
Two 1 Terabyte Hard drives configured as Raid 1
Up to 4 serial connections for tube computers
USB Port for easy recipe transfer or data transfer by memory stick
Network connection for Ethernet 10/100 Base T network
Industrial quality flat panel monitor with high resolution 1280 x 1024 display • PC-MUX software including data collection module
Remote access options
Optional SPC module
Host compatibility via SECS/GEM